Accounting Technician part-time course
We work with partner colleges across Ireland to deliver our programmes.
Most of our partner colleges offer part-time study options, which normally involves students attending evening classes twice weekly. Find your local partner college here.
Our January Diploma intake is currently only offered through our flexible ATI Online programme and with our partner colleges, Tallaght Training Centre and Mallow College of Further Education. The ATI Online programme starts this 5th January with an orientation session, and classes commence the 11th January. We're currently accepting registrations.

Start your registration
New Skills to Compete programme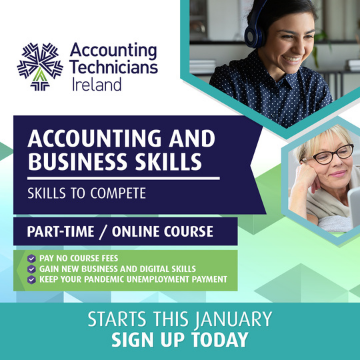 How you lost your job as a result of Covid-19? Or have you been out of work for a while now and are looking to retrain?
Find out more about our new Accounting and Business Skills programme, starting this January. Taking place part-time and completely online, you will gain highly sought-after business and digital skills, all the while retaining any unemployment payments and paying no course fees.
Learn more about the programme here.
Please note, applications to the programme will close on the 15th January, with classes commencing on the 18th. If you are interested in applying, please send your C.V. and a short introduction about yourself, and why you would be interested in taking up the programme, to:
SkillsToCompete@accountingtechniciansireland.ie
Our offices are closed for the Christmas period from the 18th of December and will reopen on the 4th of January. We will respond to all queries during the week of the 4th, and for those who meet the eligibility criteria, you will be contacted regarding a short phone interview.
Tell me more!
Who is the programme suitable for?
If you have lost your job as a result of Covid-19, or have been out of the workplace for a while, and are looking to upskill or retrain in accounting and business, then this programme is for you. Tuition if fully-funded so you pay no course fees.

The Accounting and Business Skills programme is open to students from all walks off life, with no prior knowledge or work experience in accounting or business required.

From online tutors to dedicated career support, our team is here to support you along every step of the way.

Why consider Accounting and Business Skills?
The part-time programme starts this January, and takes place completely online, so you can study at home, at your own pace. Importantly, if you are currently receiving the Pandemic Unemployment Payment (PUP), or other unemployment payment, you will be able to retain it while completing the course.

At the end of the 8-month programme, you will receive the ATI Certificate for Accounting Technicians which is equated to a Level 5 on the National Framework of Qualifications.

In addition to studying a range of accounting and business subjects, this course offers career guidance and employment supports to help you to identify career opportunities, succeed at interview, and secure a new role.

What will you learn?
The programme is divided into three learning areas - core accounting and business skills; digital literacy for the modern workplace; career-ready transferable and professional skills.

At the end of the course, you will graduate with a good understanding of the main accounting and business areas. You will also develop important digital skills using Microsoft Office, which are required for today's workplace.

Finally, you will build on your interpersonal, or 'soft' skills, to help you succeed in acquiring a new role and which are essential for future career advancement.

What are the entry requirements?
Students from a variety of learning and work backgrounds are welcome to apply with no experience in business or accounting required.

If you are under 21 years of age, we ask that you have a Leaving Certificate with grades in either of the following:
- Five ordinary level subjects incl. an O5 in English, and Maths or Accountancy
- Two ordinary level & two higher level subjects incl. an O5 in English, and Maths or Accountancy

This programme is specially designed to support people who are unemployed and are seeking to return to work. If you are in receipt of an unemployment payment, you will be able to retain it while studying.

If you don't meet the entry requirements, but are still interested in pursuing a qualification in accoutancy, then get in touch with our team about our Diploma for Accounting Technicians which also starts this January (enquiry@accountingtechniciansireland.ie)