Aron Spinola Dublin Apprenticeship
The Dublin office of Mazars Ireland has employed its second apprentice in two years and is planning to extend the Apprenticeship Programme to its Galway and Limerick offices in the near future.
The Accounting Technician Apprenticeship is a funded, work-based learning programme in which locally-placed apprentices earn at least €19,000 a year and pay no college fees while following a practical route to a rewarding career in accountancy.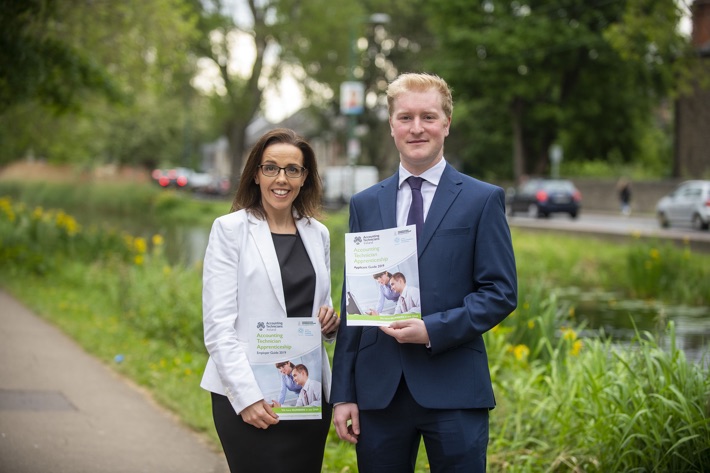 Apprentices on the Accounting Technicians Ireland (ATI) course work in the office four days a week and study in a local college one day a week during the two-year programme, which begins in September.
Applications for the apprenticeships, based in Dublin, Wicklow, Cork, Waterford, Monaghan and now Limerick and Galway are open and Leaving Cert students and mature learners can apply through Accounting Technicians Ireland (ATI).
25-year-old Aron Spinola decided to try accountancy after spending a number of years working in the restaurant trade, and is now an apprentice with Mazars Ireland.
"I have a strong work ethic and liked that I could put many things in practice straight away," said Aron.
"I have to admit I found it hard at the start as I had been so long away from study, but there was a lot of support both from Mazars and ATI."
Aron, who goes to college once a week near his home in Rathmines, is delighted his department enables him to work outside the company across a wide range of clients.
"There is a lot of work, but if you are happy enough to cope with that, then this course is for you."
The apprenticeship provides a real alternative for Leaving Certificate students who prefer practical training to a full-time college programme, or students who have embarked on a college course and found it didn't suit them.
It is also an attractive option for existing employees and mature learners who would like to pursue a career in accounting.
Successful graduates of the apprenticeship programme may then progress on to full Accountancy with Chartered Accountants Ireland or one of the other professional accountancy bodies.
Mazars Ireland is a leading professional services firm specialising in audit and assurance consultancy, corporate finance and tax, and employs some 400 people across its three offices.
Jennifer Kelly, a senior manager in its Dublin Accounting and Outsourcing Division has been personally involved with Accounting Technicians Ireland (ATI) for a number of years and worked on the steering group to develop the scheme, as an employer's representative.
"We have been involved with this course since its inception and find it is a fantastic fit for our Accounting and Outsourcing Division, which employs 20 people.
"Our finance team works with public sector bodies as well as small to medium enterprises and foreign direct investment companies which either can't justify employing their own finance team or need additional assistance.
"The apprentice gets wide and varied experience working across a broad range of different sectors and industries.
"It's a full-on course, as students put in four full working days and then one full day at college, unlike a lot of college courses which may only have a few lectures on a given day.
"But they have huge support both from ATI and from ourselves. We have workplace mentors who collaborate with college mentors to ensure there is continuous advice and development of working relationships.
"We also have regular progress meetings apprentices and the course is working so well we are looking to extend it to our Galway and Limerick offices.
"There is a bit of work required from the employer. They can't just take on an apprentice and forget about them.
"It's essential the workplace mentor is committed to the training involved, but it is a fantastic apprenticeship course and I'd fully recommend it to any employer and school leaver or mature student."
For more details of the apprenticeships see accountingtechnicianapprenticeship.ie