ATI Munster Society
ATI's Munster Society is one of four activity hubs that drive interaction and engagement between our members and their Institute.
Together with the other societies (Leinster, Ulster and Western), we organise a range of top-class educational and social events throughout the year.
The Munster Society is made up of ATI students, affiliates, members and fellows living and working throughout the region. In total we have almost 2,000 members of the society!
Social events we've run include Charity Race Days, Munster Rugby Matches and more.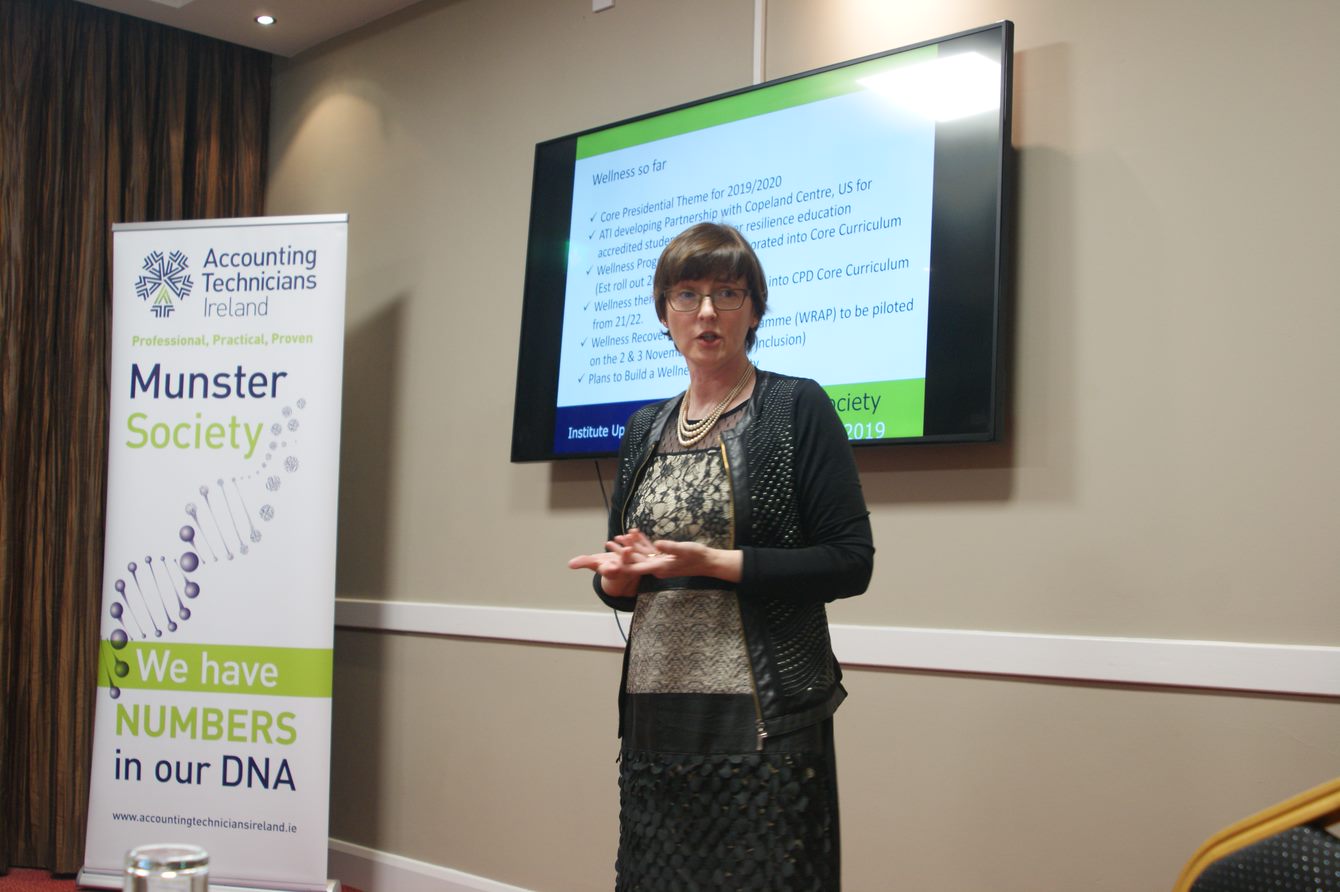 ATI COO Gillian Doherty addressing the Munster District Society
CPD Events
Our regular CPD events focus on key skill areas such as payroll, Excel and legislative and technical knowledge training, as well as current events that affect the profession such as Brexit and GDPR.
Members can gain all eight of the mandatory accredited CPD hours via Munster District Society face-to-face CPD events, which are generally delivered in Cork.
District Society Members
Mary Gleeson - Chair
Anthony O'Dwyer - Acting Chair
Emer Quinn - Treasurer
Nora O'Mahony
Eamon Landers

As Chair of the Society, I represent the Munster Society Committee at ATI's Member Services Committee. Chaired by Johnny McElhinney, this committee brings together all four District Society Chairs, the Chairs of our Members Working Groups and ATI staff to discuss the evolving needs of our membership and ways that we can improve our service to them.
We regularly write out to you with invitations to our events, and we would encourage you to attend. They are a means for you to engage with your Institute and each other, and provide excellent networking opportunities.
You should also keep your eye on ATI's website for news stories and photo galleries from these events.

Your Committee looks forward to meeting you at the various events we have planned in 2020 – let's make it a great year for Munster's Accounting Technician Community!

Mary Gleeson FIATI, Chair, Munster Society