Figuring out the next step in your accounting career
You've completed your ATI exams and put away the books in what is a huge achievement and a milestone in your professional career.
Now that you've had a chance to enjoy your success, some of you may be considering what's next? Your qualification is designed to meet the demand for Accounting Technicians across all Irish sectors, whether that may be as an Audit Associate, Finance Manager, Accounts Assistant, Credit Controller, Payroll Manager – the list goes on...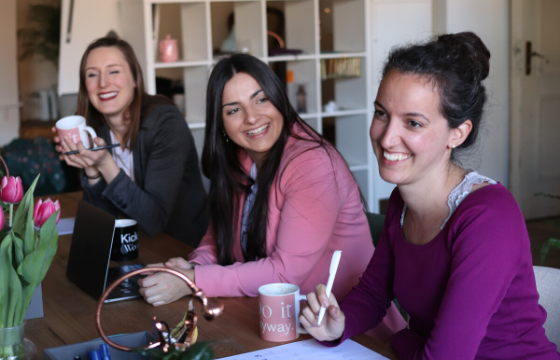 Join an international Member community
Most of our graduates become a Full Member with us, benefitting from our lively network of accounting and finance professionals to help you in your career progression. The Accounting Technician Qualification is internationally recognised, and with our Members working in global industry, the professional letters MIATI (Member of the Institute of Accounting Technicians) go a long way.
What are the steps?
Once you have successfully completed all the exams and have 2 years' full-time work experience under your belt, you are eligible to submit your Record of Work Experience and Application to Membership to complete your qualification and become a Full Member.
As a Member of Accounting Technicians Ireland, you will enjoy a number of benefits, not least being the use of the designatory letters MIATI after your name. Other benefits include a full CPD programme, exemptions for further study, corporate offers, and access to sector-specific publications.
You'll find full details of the advantages of becoming an MIATI by downloading our Membership guide or get in touch with our team.
Use your qualification to become an accountant
Nearly a third of our graduates will continue their studies and use their MIATI qualification as a steppingstone to other accountancy and business-related areas. Accounting Technician Ireland graduates enjoy generous exemptions from a number of professional bodies and colleges.
Each year, many of our students continue their career progression to become a fully qualified accountant with our partner body, Chartered Accountants Ireland, and qualify for exemptions of up to 3 of the 5 CAP1 exams. Find out more about their flexible learning pathways by downloading their brochure.
Our alumni have also gone on to study with other professional bodies including the Association of Chartered Certified Accountants (ACCA); Chartered Institute of Management Accountants (CIMA); Institute of Certified Public Accountants in Ireland (CPA); Institute of Financial Accountants (IFA); and the Association of Tax Technicians (ATT). Find out more about the available exemptions in our handy guide.
Whatever your next steps, do keep in touch with us via LinkedIn and we look forward to supporting you in your career journey.
Download our free course info pack
Required fields are indicated*