Apprenticeship Applications
SEPTEMBER 2020 Intake – Online Application Opening Soon:
The next intake for the Accounting Technician Apprenticeship is September 2020.
The online application will be available early March 2020.
Prestigious employers in practice, industry and public sector will be hiring!
Interested school leavers, graduates, mature learners and existing employees looking to start a career in accounting should consider applying.
We would encourage you to register your interest meanwhile by contacting 01 6498191 or email apprenticeship@accountingtechniciansireland.ie
It is recommended that you read further information below about the programme, recruitment process and for advice about completing the online application before you apply.
1. Programme Overview
Before progressing to completing an application for the Accounting Technician Apprenticeship it is important to understand the commitment you will need to provide to this programme.
The duration of this programme is two years from programme commencement date in September 2020. You should be able to commit to completing the programme syllabus while working in full-time employment over the two years.
For the Accounting Technician Apprenticeship Programme an apprentice will be attending (off-the-job training) at college one day and working with an employer four days during college term time (on the job training) on a weekly basis. Outside of college term an apprentice will attend work five days a week.
The (off-the-job training) day is set by the college but usually will be a Monday from 9:00am to 6.00pm and an employer will allocate appropriate work hours for the four days (on-the-job training) not exceeding the 37.5 hours per week (on and off the job training) required to be completed by the apprentice for the programme and their employment contract.
Additional home study will be needed to ensure success in the programme.
For the first year in college, the Stage 1 modules you will be studying are:
Financial Accounting
Taxation
Law and Ethics
Business Management
For the second year in college, the Stage 2 modules you will be studying are:
Advanced Financial Accounting
Advanced Taxation
Management Accounting
Integrated Accounting Systems
What will you be working towards?
Apprenticeship Title:
Accounting Technician Apprenticeship
NFQ Level:
Level 6 Advanced Certificate in Accounting
Duration:
Minimum 2 years
Typical Tasks / Responsibilities:
Accounting Technicians are qualified accounting professionals working at all levels of finance.
They work in every type of organisation and are widely employed throughout the public sector, industry and commerce and in private accountancy practices.
The Accounting Technician supports all elements of the accounts function, including income and expenditure, balance sheet transactions, statutory returns and payroll requirements and is involved in the day-to-day practical work of accountancy and plays a key operational role in producing reliable financial information.
The Accounting Technician processes all accounts payable and receivable in order to prepare, or support the preparation of, periodic accounts.
They record and monitor income and expenditure including accrued and deferred income, complete regular bank reconciliations and accounts for/completes statutory returns.
They produce Management Accounts and supply vital financial information to contribute to the cost-effective running of the Company through their reporting on costing and cost controls.
The Accounting Technician prepares company annual budgets and monitors the progress of this throughout the year. They prepare, or assist in the preparation of, Company year-end financial statements.
They provide regular analysis and reports to contribute to producing accounts.
Why are you selecting this programme and accounting as a career choice?
It is also important to consider why you are personally interested in this programme, and what is it about accounting that appeals to you as a career choice!
Check out the career pathway below: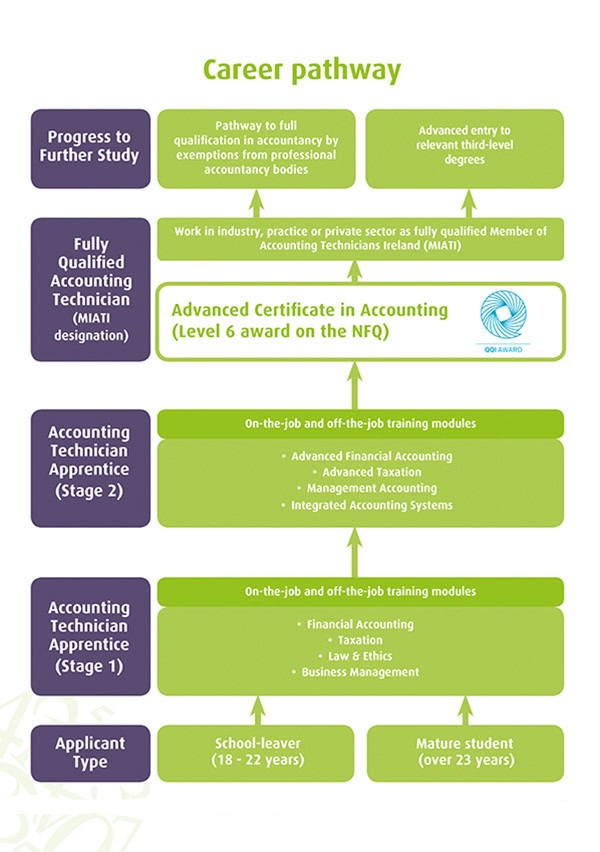 What do we want from you?
Motivation to learn and achieve.
Dedicated class and work attendance.
Proficient time management.
Reliability when on the job.
Professional etiquette.
Ability to work as part of a team and use your own initiative.
Progression Routes - Accounting Technician Apprenticeship
Please click here to download the progression routes you can take for the Accounting Technician Apprenticeship
2. Recruitment Phases
Please download and read this document
3. Eligibility guide and application tips
Please download and read this document
4. Apply now!
Sections for completion in the application and required documents to upload are:
Section 1: Personal Details:
Please provide up to date contact details that ATI and employers can reach you on.
You will be required to upload a copy of your birth cert or passport.
Section 2: Education Details:
Please provide relevant qualifications in chronological order, including grades or overall result where completed.
Make sure to provide your mock results points total and grades if completing Leaving Certificate this year.
If a course hasn't been completed it is recommended that this is outlined in your application and that a reason is provided as to why it wasn't if you are not currently completing.
You will be required to upload copies of relevant educational transcripts. For example where applicable:
School Mock Results for current Leaving Certificate students
Leaving Certificate transcript
NFQ Level 5 or above transcript
Other suitable qualifiation transcript
(Please note if you have completed a non-EEA qualification you will need to provide a comparability statement from QQI which you can access here)
Section 3: Work Experience:
Make sure you list your three most-recent jobs, starting with your current or last role.
Any accounting duties that you have performed should be detailed - but are not a prerequisite for this programme!
Section 4: Declaration of Interest:
Be sure to provide a statement showcasing your reasons for wanting to complete the programme and your interest in accounting.
Ensure your statement stands out as employers will be reviewing this, and this will most likely be the difference between being called for an interview and not being called!
Section 5: Data Protection Statement and Signature:
You must complete this section so that personal data you provide on your application may be processed and so ATI, Employers and all need-to-know parties for the programme can follow up with you as required.